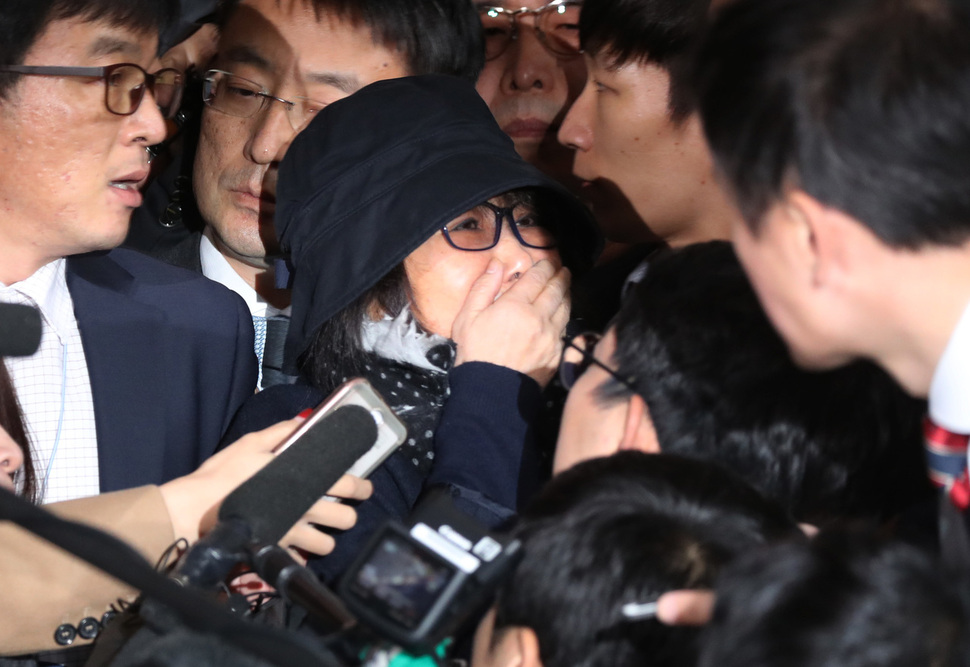 Choi Sun-sil arrives for questioning at the Supreme Prosecutors Office in Seoul's Seocho district, Oct. 31. (Yonhap News)
Choi may be seeking to ease the burden of scandal on her close confidante, President Park Geun-hye
Choi Sun-sil's surprise return on Oct. 30 after over two months in Germany is turning attention to her reasons for coming back to South Korea amid allegations of interference with state affairs, including the prior reading of presidential speeches. Choi had previously said in a press interview on Oct. 27 that she "could not return" for the time being because she was "in ill health due to a nervous breakdown." But her return came earlier than expected when she arrived at Incheon Airport at 7:30 am three days after the report. On Monday afternoon she appeared at Seoul Central District Prosecutors Office for questioning.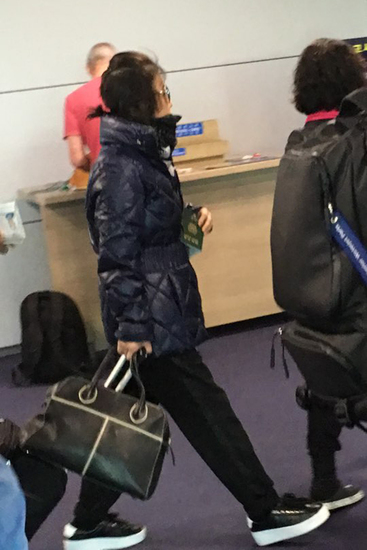 Choi Sun-sil arrives at Incheon International Airport at 7:38 am on Oct. 30, via British Airways flight BA017.
Choi, who with her father Choi Tae-min has a relationship with President Park Geun-hye stretching back over 40 years, is suspected of being deeply involved in state affairs even after Park's administration took office. Evidence has been found of her receiving copies of presidential speeches, personnel materials, and other confidential information in advance - leaking of secrets in government affairs according to the Presidential Records Act - and she is also suspected of having pressured companies into producing funding for the Mir and K-Sports Foundation, which corresponds to the criminal act of "comprehensive bribery." She is further alleged to have established local corporations in Germany to appropriate foundation money, which would be considered embezzlement and malfeasance. The early return by Choi - who has repeatedly been seen traveling incognito - is being seen as a move to rescue Park from her current serious crisis. Her return may have been motivated by fears that everyone involved could fall if the situation went unaddressed, especially with Park fast entering a vegetative state with the presidency as prosecutors move to conduct a search and seizure on the Blue House. Indeed, denunciations and criticisms of Park have come fast and furious since her Oct. 25 confession that she "sent some speeches to Choi Sun-sil early in [her] administration." Park's approval ratings have fallen to the low teens, with even the ruling Saenuri Party demanding that she submit to an investigation by prosecutors. The weekend saw demonstrations in Seoul, Gyeonggi Province, and many other places demanding her resignation. If Park does fall, the Choi family could face the loss of a domestic fortune amounting to hundreds of billions of won. Choi's rescue operation appears systematically orchestrated. Former cultural creation conversion headquarters director Cha Eun-taek, whom cultural community observers accuse of routinely abusing authority in partnership with Choi, announced his own plans to return home shortly from more than two-months spent in China. The Double K director Ko Yeong-tae, another close confidant of Choi's, returned from Thailand on Oct. 27 and turned himself in to prosecutors.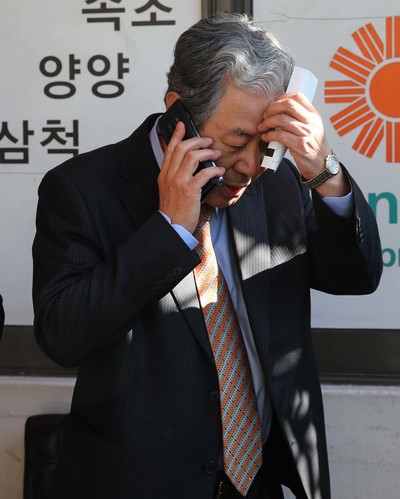 Lee Kyung-jae, the lawyer representing Choi Sun-sil, talks on the phone at Dong Seoul Bus Terminal on Oct 30. (by Park Jong-shik, staff photographer)
"If Choi continued hiding out in Europe, President Park would face all the burden of the allegations. As a 'community of destiny' with Park, Choi Sun-sil may have thought saving President Park now was a way to survive herself," said a legal source. Choi now appears to be attempting her own counteroffensive against the allegations involving government meddling and the Mir and K-Sports Foundations. In an interview with the Segye Ilbo newspaper, she admitted only to reading speeches in advance, while denying all other allegations of reading Blue House reports or appropriating Mir or K-Sports Foundation funds. She also claimed not to even recognize or have met Blue House Senior Secretary to the President for Policy Coordination Ahn Jong-beom or secretary Jeong Ho-seong. Regarding her reading of speeches, Choi offered the excuse that she "didn't know that was considered interference with governance" and "did it with pure intentions." Despite Choi's sooner-than-expected return, prosecutors have so far held off from apprehending her. Lee Kyung-jae, the attorney representing Choi, told reporters on Oct. 30 that "not everything reported in the media to date are facts." "The facts will be recognized according to the Constitution and the law. We will follow that procedure," he said. By Choi Hyun-june and Hyun So-eun, staff reporters
Please direct questions or comments to [english@hani.co.kr]
http://english.hani.co.kr/arti/english_edition/e_national/768153.html