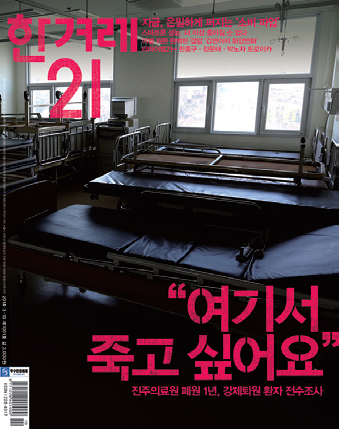 The March 10, 2014 edition of Hankyoreh 21 weekly magazine
The site of the former Jinju Medical Center is busy being transformed into an administrative center - now that the impoverished patients who once used it have been sent elsewhere. The cover story for Issue No. 1,001 of Hankyoreh 21 in March ("I Want to Die Here") was a follow-up on the patients evicted from Jinju Medical Center. It came out for the one-year anniversary of South Gyeongsang Province Gov. Hong Joon-pyo's announcement on Feb. 26, 2013, that the center would be closed. Forty patients died in the year in the between - 13 while hospitalized, and another 27 after being discharged. While the patients were dying, South Gyeongsang Province was making plans to renovate the building and relocate some of its administrative offices there. According to sources, it previously requested a feasibility study and basic plan from the Korea Total Economic Institute in 2013 for the building of a western annex for the Provincial Office. In other words, the construction was not merely Hong's decision.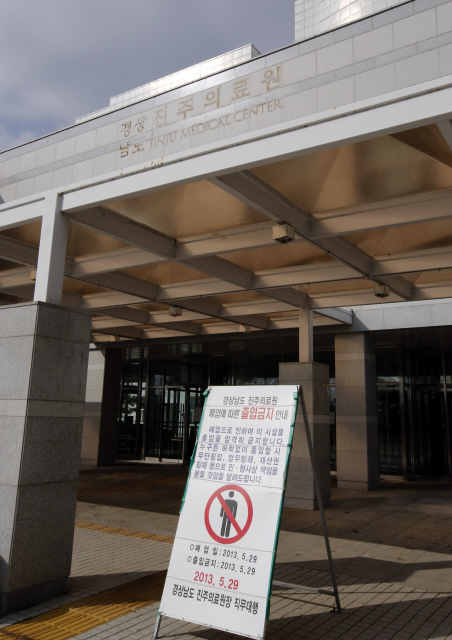 The entrance to Jinju Medical Center was officially designated as closed on May 29, 2013 and the perimeter was sealed on the order of South Gyeongsang Province government Hong joon-pyo. All the remaining elderly patients were forcibly removed.
On Nov. 26, the Ministry of Health and Welfare approved a plan for the use of the Jinju Medical Center building and state-subsidized medical equipment, which the province had requested for the annex. The decision came one day after the Jinju Resident Countermeasures Committee submitted a ministry request for a resident audit, claiming the center's closure and repurposing violated the Subsidy Management Act. The ministry had previously maintained that it could not approve an external repurposing of the Jinju Medical Center, a "symbol of public healthcare," as it would violate the terms of the act. This also explains why critics have accused the government of flip-flopping on the need for public healthcare. At a Dec. 18 press conference in front of the Government Complex in Sejong, the Korean Health and Medical Workers' Union denounced the province and ministry, accusing the latter of "conducting a slipshod examination and colluding secretly to approve the repurposing of the Jinju Medical Center." On Dec. 24, the Supreme Court ruled that the South Gyeongsang Province government's blocking of a public referendum on the closing of Jinju Medical Center was illegal. The ruling opens the possibility that a referendum could be held. Please direct questions or comments to [english@hani.co.kr]
http://english.hani.co.kr/arti/english_edition/e_national/671147.html